"As she kept her eyes on the conductor Nicholas Harsanyi, or looked off into space, she delivered blindingly accurate salvos of notes and projected a rhythmic feel and sense of humor that was infectious. She drew bravas, thunderous applause, and a standing ovation that she thoroughly deserved."
Claudia Sheppard, Winston-Salem Journal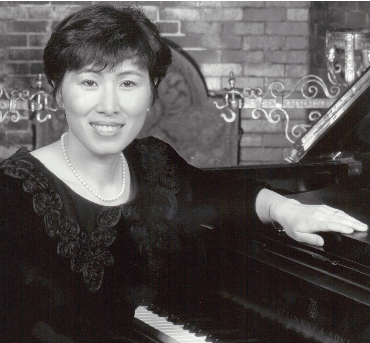 Heawon Kim's beginnings as one of Korea's most well known prodigies of her generation, appeared at the age of seven with the Korean Broadcasting Symphony Orchestra and the Seoul Philharmonic, with many return engagements including an appearing with the KBS for the opening of the Sejong Arts Center. Upon winning numerous competitions and appearing frequently on television and radio she came to the North Carolina School of the Performing Arts in 1972. There she studied with Clifton Matthews, receiving the Vittorio Giannini Award, and appeared under the baton of Nicholas Harsanyi with Prokofiev's third concerto.
Following rave reviews and winning Southeastern Music Teachers Competition she was brought to New York by Claude Frank to study with him at the Mannes School of Music, and continued to complete her studies under Robert Goldsand at the Manhattan School of Music. Since coming to the US she has performed as collaborator for many instrumentalists for the classes of Erick Friedman, Josef Gingold, Janos Starker, Franco Gulli, Tibor Varga, and as a solo pianist for Irwin Freundlich, and Andre Watts. Ms. Kim has been a soloist with regional orchestras in the United States and has appeared as chamber musician with such groups as the Bronx Arts Ensemble, L'Ensemble, The Pierrot Consort, Rosewood Chamber Ensemble, Garrett Lakes Festival, Leonia Chamber Players, and the Colonial Symphony.
She is much in demand as a collaborator in recitals with internationally renowned artists, and for competitions and recordings. She was a frequent recital collaborator for the late Erick Friedman for over 30 years and as a soloist under his baton. Other collaborations have included such international artists as Dennis Brott, Sergiu Luca, Marion Davies, Sanford Allen, Barry Finclair, and her husband, Dale Stuckenbruck. She is on the faculty of LIU Post as an instrumental coach. Ms. Kim is very active in the Korean musical community, performing for fundraising concerts of displaced persons from North Korea. She has worked with Dale Stuckenbruck to create the organization for young talent called "Kammermusik" with whom she has performed numerous concertos including those by Clara Wieck-Schumann, Liszt, and Mendelssohn. Festival faculty for the LIU-Post Chamber Music Festival, Pierrot Consort, since 1988.

Reviews
"...(Mozart Sonata) an expression of sheer beauty and charm."
Dr. George Kehler, author of "The Piano in Concert"
"... Heawon Kim matched her playing to the character of the compositions, especially in the revolutionary style of Beethoven, which profoundly projected."
El Norte, Monterrey, Mexico
"Very brilliant pianist, her superior quality being her musicianship, consisting of special maturity, and dynamic, and power of expression."
Seoul National Theater, Hankuk Daily News