".. a dynamic performer,. taut, sure-footed playing...
a triumph of synergy and of sympathy for the music.. 
Adam Horvath, Newsday, New York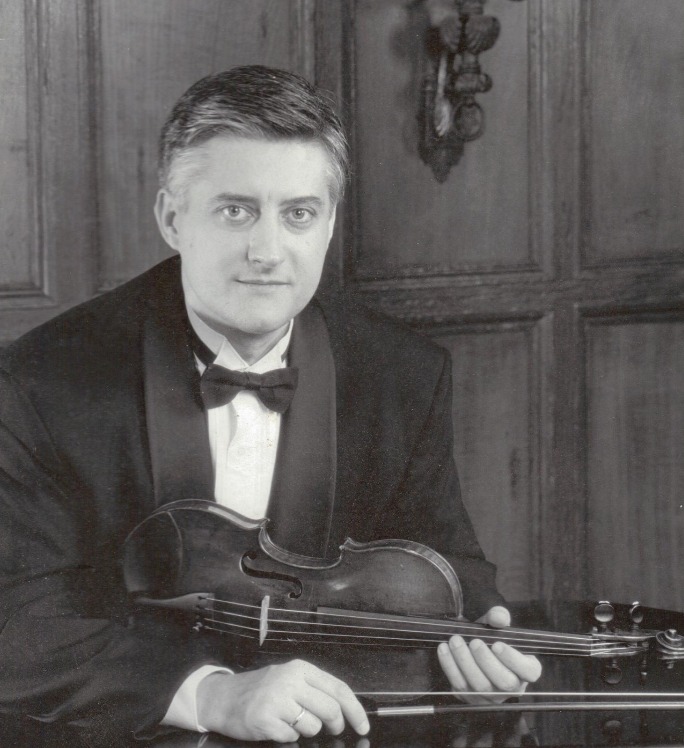 Reviews
".. (Vieuxtemps concerto # 5).. magnificent violinist.." El Provenir, Monterrey, Mexico "
"(Glazounov concerto) exquisitely played, fine expression and sensitivity.." China Daily News, Taipei, Rep. of China

".. (Brahms concerto)..proved himself a true virtuoso.. his ease, gentle touch on even the most difficult passages was outstanding. He was obviously quite comfortable with this inordinately difficult piece adding dimensions that make a performance more than just a recital of notes.." Kingsport Times, Kingsport, Tennessee

" .. (Lou Pelosi concerto) ..the playing was first rate, you should be proud of this recording.
Max Shubel, Opus One Recordings

"-- (Bartok concerto).. I enjoyed it tremendously. The spirit of the piece was just wonderful and beautifully prepared. Thanks you for the joy you have given me. I have nothing to say." Josef Gingold, violinist

"raptured his audience with his interpretations of Strauss , Ravel and Wieniawski.." Staats Zeitung und Herald, New York
Biography
Grammy-nominated artist, is immersed in the diverse musical life in New York as a soloist, concertmaster, chamber musician and teacher.

His mentor of three decades was the great violinist Erick Friedman, with whom he has appeared as soloist in recording and in chamber music. He has performed as violin/saw soloist with the New York Philharmonic, New Century Chamber Orchestra, Brooklyn Philharmonic, Philharmonia Virtuosi, New York Virtuosi, New York String Ensemble, Tchaikovsky Chamber, Orchestra, Taipei City Symphony Orchestra, Music at St. Ignatius, Queens Symphony, Masterworks, and the Long Island Philharmonic. He recorded the "Concerto for Violin and String Choir" for Opus One by Louis Pelosi, with Erick Friedman on Kultur Video (music of Fritz Kreisler), and for countless commercial recordings and films.
He has been featured in Strings Magazine, Wuolgang Umak (Korea), Newsday, Sarasate (Japan) and the New York Times. He has been a guest lecturer for the Juilliard School of Music (musical saw and Baroque violin), and the Long Island Guitar Festival.

He is the violinist the chamber groups L'Ensemble and the Pierrot Consort and in chamber ensembles such as the Clarion Concerts, Leaf Peeper Concerts, and at the Caramoor Festival. Since 1975 he has toured with Heawon Kim, pianist, in recitals in Asia, Europe and South America. They are founders of unique string ensemble for young talent, Kammermusik. He is the founder of the Long Island Vegetable Orchestra, appearing on "Conan" as a guest.

Recognized as one of the premier artist of the musical saw, receiving international acclaim for recording "Sawing to New Heights" with music by Steve Margoshes, "Ancient Voices of Children" by George Crumb on Bridge Records, and for his performances of the "Divination by Mirrors" by Michael Levine with the New Century Chamber Orchestra and the New York Virtuosi, as well as his appearance on the "Tonight Show" with KORN. He has performed the saw in chamber music with Lincoln Center Chamber Music Society and with Leonid Kavakos and the New York Philharmonic in the 4th violin concerto by Lera Auerbach.

As a mandolinist he has appeared at the Metropolitan Opera, New York City Opera, ABT, and with Paula Robison at the Metropolitan Museum and in a recording with the Charleston Symphony. As an erhu solosit he has appeared as soloist with the Queens Philharmonic.


He has created the music for the films "Shadows" and "Fresh," featured at the Whitney Museum and the Israeli Museum, respectively.

Adjunct full professor at LIU since 1986, and assistant director of the LIU-Post Chamber Music Festival. Faculty LIHSA, 2020-21, and faculty of the Oyster Bay Music Festival. D.M.A. from MSM, 1984.
Call or email us with any questions you may have.
This is just example text. Click to edit and add your own content. This section is perfect for inspiring your site visitors to contact you. You may also want to include any important information regarding how (and when) a visitor should contact you.